Bildergalerie
The Euro Space Center, formerly known as "Euro Space Camp" is a museum and – more or less – Space Camp facility in Belgium. It was a pleasure to me to visit this centre, because I took part in the half day Astronaut Training Experience at Kennedy Space Center and in Adult Space Academy (3 day program) in Huntsville, Alabama in the past. I was curious about the differences between these programs. I booked the "Discovery program" in Euro Space Center together with my brother in law, who is 16 years old. The amount of 150,- € per person seemed to be a fair price for 2 days of training, accommodation and meals.
We did a pre-booked "Discovery Mission"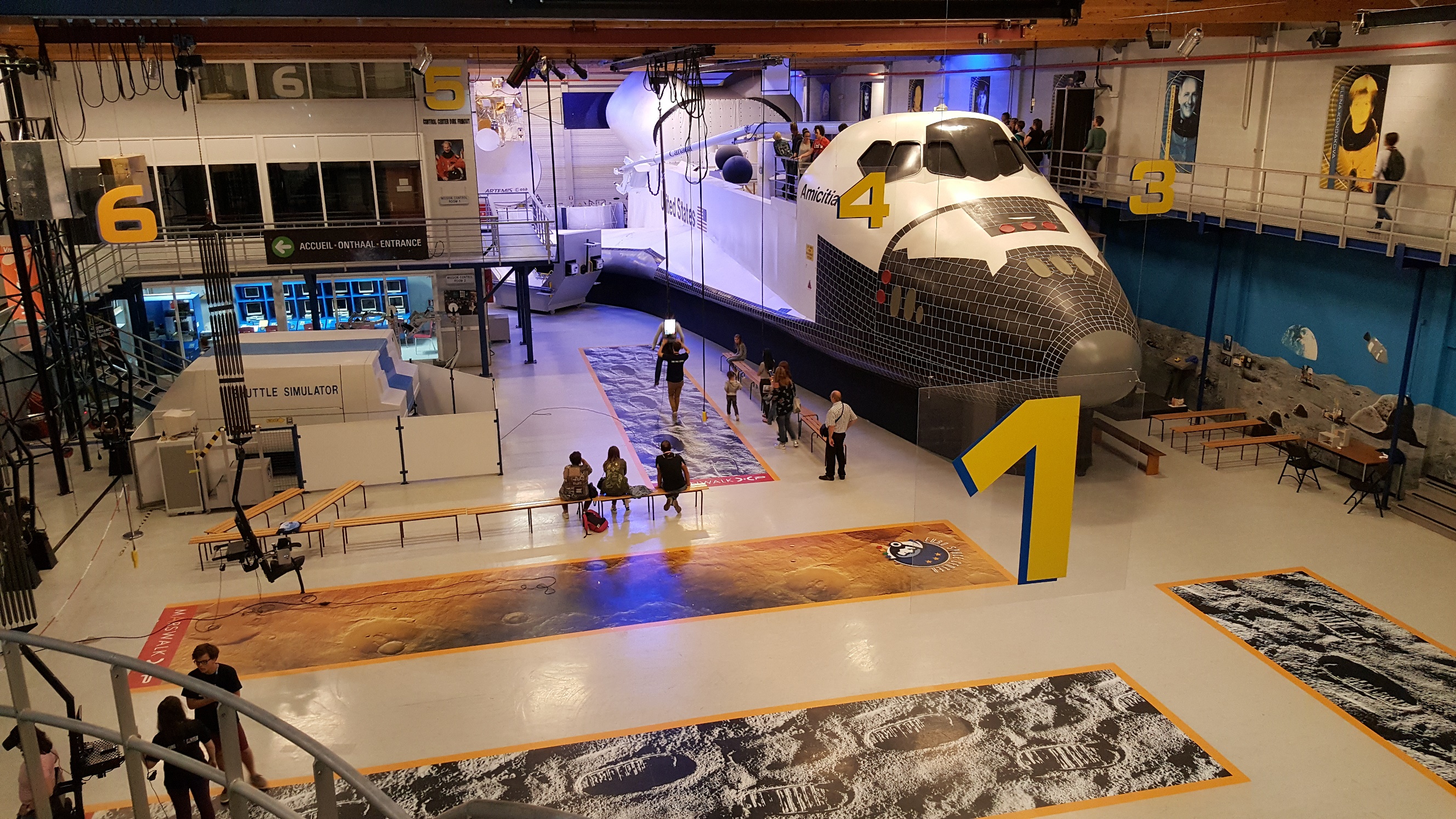 Training Hall with Space Shuttle Amicitia
The arrival was planned for 10 a.m. At reception we met our Crew Trainer, who led us to our rooms. I counted 10 beds in our room. The bunk beds looked a little shabby, really old. We can imagine that there have been lots of school classes within the last years inside these beds. For one night, the beds were ok. But it shouldn't have been for longer. Just one shower for this room of 10 people and the toilet was on the floor, outside the room. This didn't seem to be up to date. We were really happy to be the only two people inside this room.
The training hall looked a bit like old Space Camp photos of Huntsville. Most of our activities took place there. Our Crew Trainer explained all stuff very well. He was able to thrill all of us. First activity was the microgravity wall. Our weight was balanced with a barrel of water which can be filled and drained with some buttons. Simple technique. So it was easy to move from the ground to the top of the wall. A nice experience. I did the same at ATX (but not at Space Academy). The difference to ATX was, that we had to 'repair' some satellites in Euro Space Center. We got some wires, which we had to trial in different annexations. We had to find the correct combination of switching the wires. So it was a little bit of teambuilding at the same time. And it was very good to have a task up in the air.
Nearly true Space-Camp-Feeling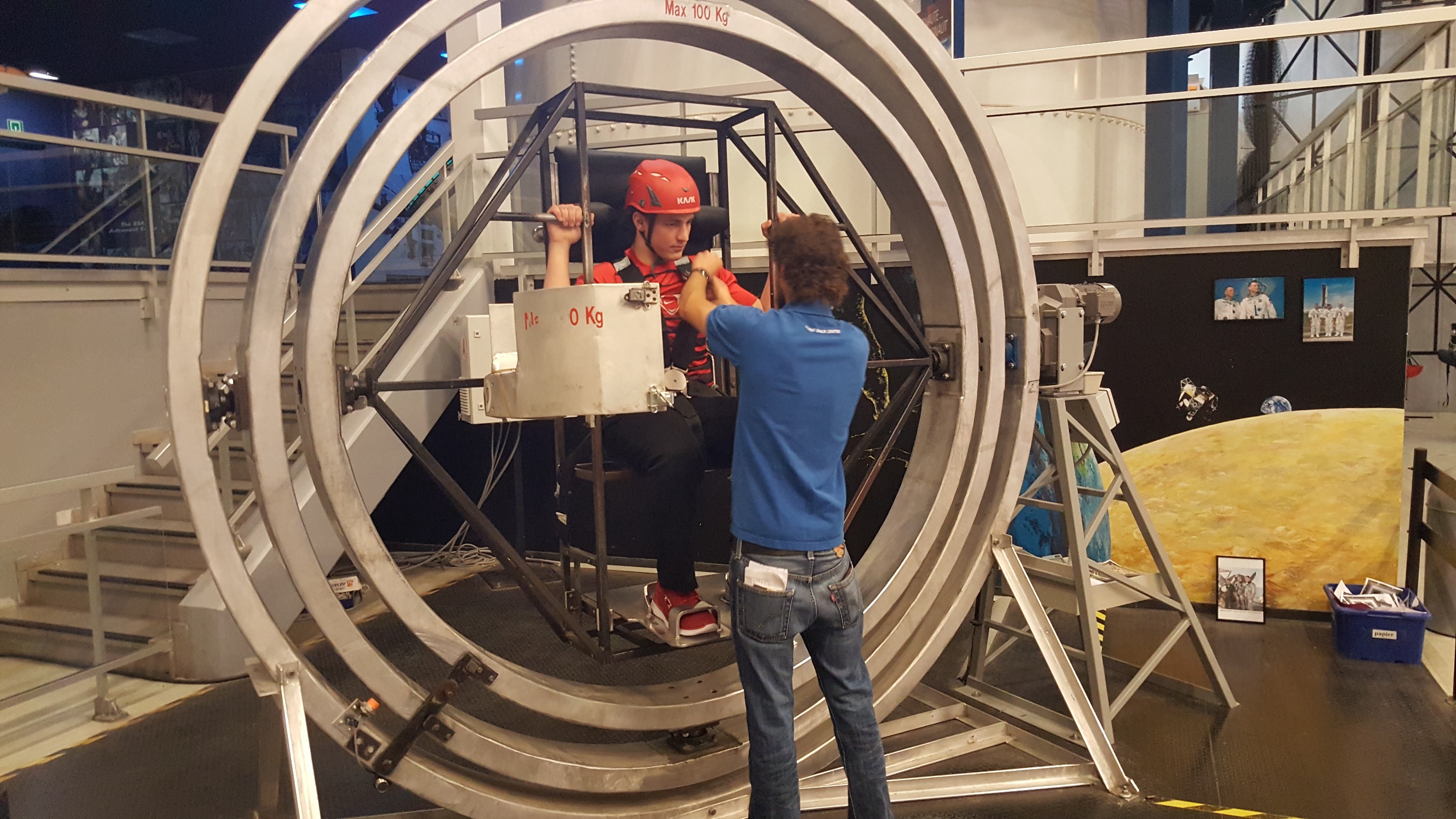 Multi Axis Trainer
The Multi Axis Trainer is the most amazing part for most people. We successfully asked to try it twice and it was no problem to do so. Comparing to those in the United States, the MAT in Belgium seems to be a little slower. In my opinion, it could be a little more action. There was another difference to those at ATX and Space Camp: The Crew Trainer gave us a paper where we had to follow some lines by drawing a pen on it. So we were concentrating on drawing during the MAT experience. That was pretty cool and a good idea, too. To have an underlay, they had something like an arm / support plate in front of your body.
The Moon-/ Marswalk is very interesting, too. It was not part of Adult Space Academy in Huntsville either in ATX in Florida, so it was totally new to me. They have to programs: Moonwalk, with 1/6 gravity and Marswalk with 1/3 gravity. Virtual Reality glasses gave the optical environment. So you really feel to be on moon or mars.

Totally new to me as well was the rotating chair. I've seen it on different videos, but didn't do it myself. Crew Trainer told us, that European Astronauts still use this to prepare against sickness in space. But it took a lot of time to the Astronauts, so other countries decided not to operate this anymore. I don't know if this was true, but he told us, that European Astronauts have to do it 45 Minutes a day. Couldn't imagine this. The rotating chair is a good self-awareness lesson. You learn a lot about sickness in space, the internal ear and the different tubes inside the ear. In an exercise you have to lay your head to the right shoulder, during the chair is rotating to the left (hope that's right). You have to do this 45 seconds. After that the Crew Trainer suddenly stops the chair. The effect is that you are falling forwards, because of the tubes in the ear. The water inside is rotating, too. Because of the skew position the water in the tubes are rotating in that way, they would do, when you are going backwards. As a reflex your body tries to compensate it by turning forward. You cannot do something against this reflex and it is very surprising. I tried it on my office chair and it had the same effect. But be careful. If you are doing this wrong, you are going backwards. This is dangerous because you can get a whiplash injury.


Launch DayRocket construction is a task in every Space Camp. So we had to do it here, too. One rocket for each family. It was a very simple construction. In Huntsville they took many prefabricated items, here we had to build everything on our own – of course with good instructions. The Crew Trainer was able to explain all steps very good and he gave a good overview, how rockets fly. They have a very nice launch site for these rockets in Belgium. Unfortunately, a lot of trees are very close. You all can imagine how these Space Camp Christmas trees look like. The museum itself was okay, but not worth to drive a lot of kilometers to see it. It was really okay, but nothing more. We had enough time to see all the shown items.
Space Shuttle Mission finished the Training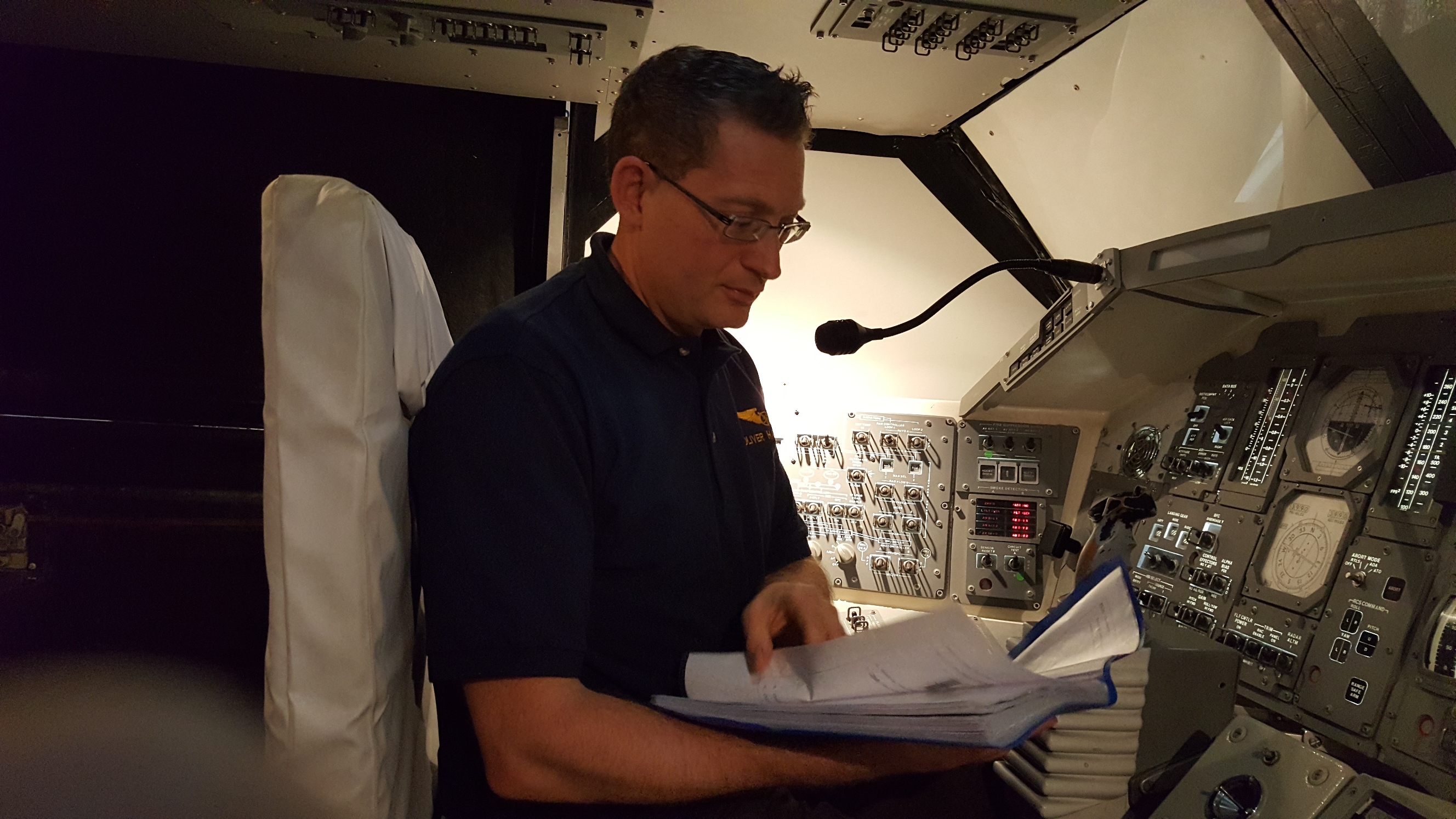 As a Commander in Shuttle SimulatorThe two days were finished with a Space Shuttle Mission. Actually they have two simulators. The most eye-catching one is Space Shuttle 'Amicitia' (Latin: Friendship). I don't know, where this mock-up was constructed. But it is a very old one. It has no monitors to see anything outside the orbiter. Just displays and a lot of switches. The other simulator was – more or less - a big box. The outside of this simulator looked a little bit like a Star Trek – Enterprise – Shuttle. The cockpit was designed like a Space Shuttle. But without any monitors to have a view to the outside. This was the one we used for our 1,5 hour shuttle mission. It was cool, but without any sound and without the possibility to land the shuttle with a joystick, I missed something. I was the commander on this mission and it seemed not to be very realistic, that you don't have to land the orbiter after the mission. Another thing was, that only two people instead of four were placed in the orbiter. There was no EVA planned. So, this simulator was okay. But it was much better in the United States. If you ask me, I would say the best shuttle simulator was at Kennedy Space Center, during ATX (Discovery), the second best is Enterprise in Huntsville and the one in Belgium is on a third place. They told us that all computer systems are still working on DOS.

Crew Trainer told us, that Euro Space Center will spend a lot of money in the next few years to improve. Especially the bedrooms have to be built new. The simulators have to be exchanged of course. They are planning to have a Soyouz Simulator. If I understood him right, they already ordered a simulation. But it will take some time to implement it and to solve all the bugs. So he suggested visiting Euro Space Center again in 2019 or 2020.
Altogether it was a really nice adventure there. Some special things are better than in Space Camp or at ATX. Some other things, like the shuttle simulator are worse. But this mission is absolutely comparable to 3 days Adult Space Academy with the constraint, that you don't have a long-duration mission or an Area 51 for instance. In Space Camp there is more spirit, more sobriety. I like it to wear a flight suit, I like the graduation – these were things I really missed in Belgium. By the way: The mess / lunchroom at Space Camp is much better than that you get in Belgium. It seemed to be much unorganized there. But – for two days, it was okay.
ATX KSCVC

(old!)

Adult Space Academy (3 day)

Euro Space Center

Discovery program

Accomodation

0

2

3

Crew Trainer

2

1

1

Canteen

0 / Snacks

2

3

Shuttle Mission

1

1 – 2

3

Orion Mission / Long Duration Mission

0

2

0

Multi Axis Trainer

1

1

1

Moonwalk / 1/6 Gravity Chair

0

0

1

Microgravity Wall

2

0

1

Rotating Chair

0

0

1

Rocket Building / Launch

0

2

2

Teambuilding (Area 51)

0

1

0

Heatshield Construction

0

1

0

g-force accelerator

0

1

0

Museum Experience

0

1

2

Authenticity

2

1

3

Graduation

2

1

0

Shuttle Landing Simulators

1

0

0
0 = Not available
1 = very good
2 = good / moderate
3 = okay / bad